Sizzling Reading
Erotic books for women are proving hugely popular. Today's women are moving on from traditional romance novels and happily reading naughtier things.
Thanks to the growth of e-book publishing, women's erotic books are easy to purchase and plenty of people are trying their hand at it. Unfortunately that also means there's a lot of dross to wade through. We thought we'd recommend the good stuff.
Best Women's Erotica Series
Edited by Violet Blue, this always-fabulous compilation is released once-a-year and showcases the very best erotic fiction by new and established writers.
Sexy Compilations
Got A Minute? 60 Second Erotica
by Alison Tyler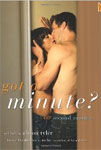 Description: "Turn me on in 50 words or less and I'll follow you home," writes editor and erotica aficionado Alison Tyler about her collection Got a Minute? When it comes to a breathless, clothes-in-a-heap romp or a naughty tease before the elevator doors slide open, who hasn't fantasized about quickies? Readers join in the fun when the lovers in Marie Potoczny's "The Other Side of Sleep" revel in the delicious pause between sleep and waking. Sharon Wachsler's "Perfect" is a love story that happens to include ropes, rough play, and butterfly pillows. Proving that a slow hand is not always better, these intense encounters deliver scintillating thrills in as little as 75 words. Fast and ferocious, the 60 short and spicy stories in Got a Minute? rev readers' motors and leave them aching for more. When it comes to hot sex, who doesn't have a minute?
Sweet Confessions: Erotic Fantasies For Couples
by Violet Blue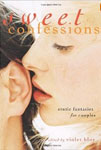 Description: In Sweet Confessions, Violet Blue showcases inspirational "you can do it, too" tales that are perfect bedtime reading for lovers. These outrageously sexy stories break the mold in literary excellence. The lust-inciting fantasies include spanking, exhibitionism, role-playing, three-ways and sensual adventures that will embolden real couples to reach new heights of passion. "Waisted," by Angela Caperton, is a Cinderella story of corset fetish sex, while Liv Olson's couple in "All Shaved Up" take turns daring each other to smooth down and go further. "The Female Gaze" by Rachel Kramer Bussel is a showstopper of sexual confession and romantic lust and risk, and Alison Tyler's nooner in "Counterpane" proves just how exciting the familiar can be when you fully unleash your fantasies. In Violet Blue's own words, "The stories I've chosen are explicit, well thought-out, cleverly crafted and arousing as hell. Trust me. I tried it all at home."
Obsessed: Erotic Romance For Women
by KD Grace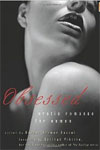 Description: Obsessed is not about obsession for a new purse or a new car. Instead, these stories sizzle with the kind of obsession that is fueled by our deepest desires, the ones that hold couples together, the ones that haunt us and don't let go. Whether just-blooming passions, rekindled sparks, or reinvented relationships, these lovers put the object of their obsession first. From the almost-divorced couple in "Aftershocks," by Bella Andre, who finally confess their deepest desires during an earthquake, to a woman who confesses to her boyfriend just how much she lusts after another man in Emerald's "Then," these lovers push the boundaries of their relationship and the boundaries of their trust in each other. Obsessed lovers don't always do what is rational; sometimes they chase their dreams, such as in Kayla Perrin's "One Night in Paris," across the world and across the landscape of their lovers' bodies.
Do Not Disturb: Hotel Sex Stories
by Rachel Kramer Bussel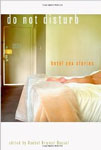 Description: No doubt about it: hotel rooms are hot. The minute you slip the key in the door, you want to strip off your clothes and dive naked between the sheets, whether there's a lover there to share in the indulgence or not. From luxe, five-star lodgings to seedy no-tell motels, hotels offer the chance to unwind, relax, and if given the chance, become someone else altogether. This steamy collection takes readers behind those anonymous closed doors with sexy, scintillating tales of singles and couples frolicking and flaunting themselves for their own naughty purposes. Featuring work from Alison Tyler, Shane Allison, Donna George Storey, Shanna Germain, Saskia Walker, and others, the stories in Do Not Disturb offer the sense that anything can happen — and quite often it does.
Take Me There: Queer and Transgender Erotica
by Tristan Taormino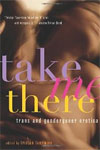 Description: In mainstream media, the erotic identities, sex lives, and fantasies of transgender and genderqueer people are often oversimplified, sensationalized, or invisible. Take Me There is an erotica collection unlike any other that celebrates the pleasure, heat, and diversity of transgender and genderqueer sexualities. The power of seeing and being seen is a central theme in the anthology; it's not simply about passing or not passing (an idea often explored with transgender characters), but about being acknowledged and desired in a sexual context.
The book takes you from San Francisco to Israel, from heartache to lust, from stranger sex to a 10 year anniversary, from ballet shoes to butt plug bondage tables, from fumbling teenagers to leatherclad bears, from MTF and FTM—and in between and beyond.
Fairy Tale Lust: Erotic Fantasies For Women
by Kristina Wright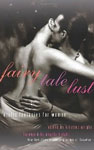 Description: Award-winning novelist and top erotica writer Kristina Wright goes over the river and through the woods to find the sexiest fairy tales ever written. Playfully seductive, supernaturally sensual, and darkly erotic, Fairy Tale Lust showcases clever twists to classic tales and introduces new stories inspired by the ever-popular genre. Here, a walk in the forest is likely to lead to an erotic encounter with a mysterious stranger and the silver light of a full moon might illuminate an orgy of sensual delights! Highly imaginative and downright stimulating, these stories take fairy tale erotica to the next level. Top erotica contributors deliver sizzling work, including Janine Ashbless, Rachel Kramer Bussel, Delilah Devlin, Shanna Germaine, and Saskia Walker.
Steamlust: Steampunk Erotic Romance
by Kristina Wright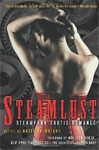 Description: Steamlust is romantic erotica that reflects the excitement, fantasy and rebellion of steampunk. Not sure what steampunk is? Think Victorian elegance and aesthetics meets futuristic invention and exploration. The genre of steampunk itself has transcended the Victorian (or Edwardian) eras — in Kristina Wright's inventive anthology, it can be any time period, real or imagined, that blends elements of science, history, fantasy and technology. Until Steamlust, the genre had been missing romantic relationships and erotic encounters. Steampunk erotic romance is shiny brass and crushed velvet; mechanical inventions and romantic conventions; sexual fantasy and kinky fetish. It's steam powered sexy romance!
Editrix extraordinaire Kristina Wright creates a lush and fantastical world of women-centered stories and romantic scenarios, first for steampunk fiction. Fetishizing the wardrobe, language, fantasy and rituals of steampunk, Steamlust includes alternate histories, second worlds, time travel and contemporary settings.
Women In Lust
by Rachel Kramer Bussel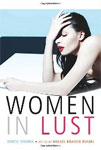 Description: Lust is urgent, overpowering, and potent. While in real life readers may not always act every time desire calls, in fiction, they can abandon the safety of propriety to seek out lust and sex wherever they find them. The characters in Women in Lust may vary in the objects of their lust, and how they go about acting on it, but what connects them is that pure impulse for a lover. Sometimes he is someone she knows well, a boyfriend or a husband; in other stories, he is a stranger, and is desirable precisely because he represents the unknown. Whether watching a lover playing guitar, going out for a smoke or simply engaging in a chance encounter, these women seize the opportunities presented to them, and savor the lovers who teach them about themselves, helping open them up to new sensual possibilities.

Gritty: Rough Erotic Fiction
by Sommer Marsden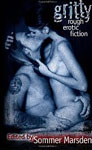 Description: Includes gritty fiction by: Quinn Gabriel * Willsin Rowe * Rita Winchester * Alison Tyler * Sommer Marsden * Aisling Weaver * Heidi Champa * Shanna Germain * Parker Ford * Justine Elyot Needs. We all have them. What you will find in this book are tales-tawdry and otherwise-of folks who are on a mission to fulfill their needs. Or, in some cases, people who are lucky enough to have partners willing to help them meet their needs. Dirty, rough, gritty, coarse, sometimes startling-always stimulating. This is love and lust, f*cking and seduction on the rough side. The gritty, edgy underbelly of relationships and love and sex. CONTENT WARNINGS: This book contains rough sex, explicit sex, explicit language, infidelity, m/f/m sex, m/m sex, ménage, corporal punishment, whipping, seduction and BDSM. Readers 18+ ONLY
Classics
The Sleeping Beauty Trilogy
by A.N. Roquelaure (Anne Rice)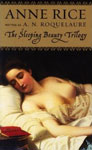 First published in 1983, these three novels are author Anne Rice's exploration with erotic fiction after she'd written Interview With The Vampire. She set out "to create a book where you didn't have to mark the hot pages" and "to take away everything extraneous, as much as could be done in a narrative." The result is a hard and heavy adventure into intense BDSM loosely set within the fairy tale of Sleeping Beauty. The story starts with Beauty being awakened, not by a kiss, but by a thorough rogering. And it goes from there. The books have a huge cult following and their uncensored nature also resulted in several libraries banning the books because they were "hardcore pornography."

"Rice explores the feelings of the characters and how they adjust to their situation and surroundings, and how they relate to each other in such an extraordinary setting. I found myself reading as fast as I could to find out what happened to Beauty and her friends." - Amazon reviewer.
The Story Of O
by Pauline Reage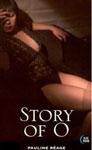 Description: O is a young, beautiful fashion photographer in Paris. One day her lover, Rene, takes her to a chateau, where she is enslaved, with Rene's approval, and systematically sexually assaulted by various other men. Later, Rene turns O over to Sir Stephen, an English friend who intensifies the brutality. But the final humiliation is yet to come.
This erotic novel was originally published in 1954 by French author Anne Desclos (as Pauline Reage). It won the prestigious French literary prize Prix des Deux Magots and the publishers were subsequently put on trial for obscenity. The book has been made into numerous films and inspired a documentary. Feminists protested against it due to their belief that the book glorified female objectification. It has long been admired by the BDSM community.
Delta of Venus
by Anais Nin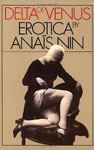 Description: In Delta of Venus, Anais Nin pens a lush, magical world where the characters of her imagination possess the most universal of desires and exceptional of talents. Among these provocative stories, a Hungarian adventurer seduces wealthy women then vanishes with their money; a veiled woman selects strangers from a chic restaurant for private trysts; and a Parisian hatmaker named Mathilde leaves her husband for the opium dens of Peru.
This book of short stories by famed writer Nin was written in the 1940s while she was writing for a private collector. The stories were published posthumously in 1978. They contain many taboo subjects including abuse and incest and thus still have the power to shock even today. The "collector" commissioned numerous famous writers including Henry Miller to write down-and-dirty stories for his own gratification. Nin did her best to make them poetic, calling herself "the madam of this snobbish literary house of prostitution."
Novels
Fifty Shades of Grey
by E.L. James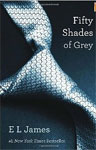 The mainstream media were amazed when this book went to number 1 on the New York Times Bestseller list. There seemed to be a lot of shock that women would read BDSM erotica and then it was referred to derisively as "mommy porn". Nonetheless, the novel is popular enough that it has two sequels.
Description: When literature student Anastasia Steele goes to interview young entrepreneur Christian Grey, she encounters a man who is beautiful, brilliant, and intimidating. The unworldly, innocent Ana is startled to realize she wants this man and, despite his enigmatic reserve, finds she is desperate to get close to him. Unable to resist Ana's quiet beauty, wit, and independent spirit, Grey admits he wants her, too—but on his own terms.
 
Shocked yet thrilled by Grey's singular erotic tastes, Ana hesitates. For all the trappings of success—his multinational businesses, his vast wealth, his loving family—Grey is a man tormented by demons and consumed by the need to control. When the couple embarks on a daring, passionately physical affair, Ana discovers Christian Grey's secrets and explores her own dark desires. Erotic, amusing, and deeply moving, the Fifty Shades Trilogy is a tale that will obsess you, possess you, and stay with you forever.
Bared To You
by Sylvia Day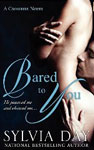 Description: Our journey began in fire...
Gideon Cross came into my life like lightning in the darkness-beautiful and brilliant, jagged and white-hot. I was drawn to him as I'd never been to anything or anyone in my life. I craved his touch like a drug, even knowing it would weaken me. I was flawed and damaged, and he opened those cracks in me so easily... Gideon knew. He had demons of his own. And we would become the mirrors that reflected each other's most private wounds... and desires. The bonds of his love transformed me, even as I prayed that the torment of our pasts didn't tear us apart... "When it comes to brewing up scorchingly hot sexual chemistry, Day has few literary rivals." -- Booklist
Check out more erotic novels from these major producers
Erotic Fiction Online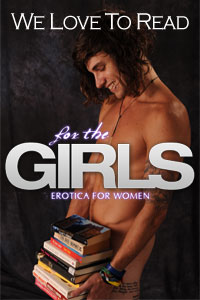 For The Girls has a massive archive of erotic fiction written especially for a female audience. Some of the best known authors have contributed to this site along with a host of in-house writers. There's long-form stories and flash fiction covering topics to suit every taste, be it romance, bondage, threesomes, oral sex, anal, same-sex scenes, one night stands or loving relationships.
As well you get access to thousands of erotic images, movies and an entire online magazine, just for straight women.
Illustrated Erotic Stories
The Born Again Virgin Plan - "Despite her protests, Rick had insisted on carrying her over the threshold, her satin wedding dress cascading around them. She was glad he'd done it, even if it was old fashioned and unnecessary.
"The reception had been a small affair, a few drinks and some very short speeches. Everyone had complimented Kirsty on her dress and how beautiful she'd looked.
"But she'd barely paid attention. Her thoughts had been on Rick the whole time - and on the incessant throb in her cunt..."
Switching Off - "James had been playing his stupid computer game for two weeks. He'd become so engrossed in it that he'd barely spoken to her in the last three days.
"My pussy needs you, honey. It's wet and ready, waiting. I want you to slide your tongue into my cunt, baby, and lick me until I come." James kept pressing the keys as though he hadn't heard her..."
More hot stories...
Cream - "You know how much I love cream, how I want to be creamed up, over and on..."
Sex Swing - Katie knew that Pete had bought her something big for her birthday but she hadn't expected… this.
Honeymoon Hayride - A newlywed couple sneak into a barn for some sexy fun.
Horny End of a Hard Day - Sarah seduces her good looking male secretary on her desk.
Log Cabin Weekend - Jenny and her lover Mike share an intimate weekend at a log cabin.
Examination After Hours - A doctor and nurse examine each other while off duty.
The Picnic - Acouple enjoy fine food and each other.
Happy Campers - Gina and Mickey's camping trip prompts some lusty, natural sex.
Valentine's Day - Bob gives Annika flowers for Valentine's Day, and they make love.
Lia and the Queen - Slave girl Lia is summoned to the Queen's chamber.
Threesome By Appointment - Lisa and her husband fulfill her fantasies with a handsome male escort.
Hawaiian Valentine - A woman's dream for a perfect, almost cliched, beach Valentine's day comes true
By The Campfire - Simone and Gavin, alone at the campground, indulge in some fireside sex